Regular price
$99.00 USD
Sale price
$79.00 USD
Unit price
per
Sale
Sold out
Naturally flexible and durable, ZuZu Groove are made out of our recycled tire sole, anti-bacterial midsole, and a high-end, breathable vegan leather footbed. They provide a comfy and natural feeling, light cushioning, and wild style. ZuZu Groove are made for travelers, dancers, yogis, runners and anyone who's up for exploring the earth with groove.
Fast delivery

100% Vegan

Hand made
View full details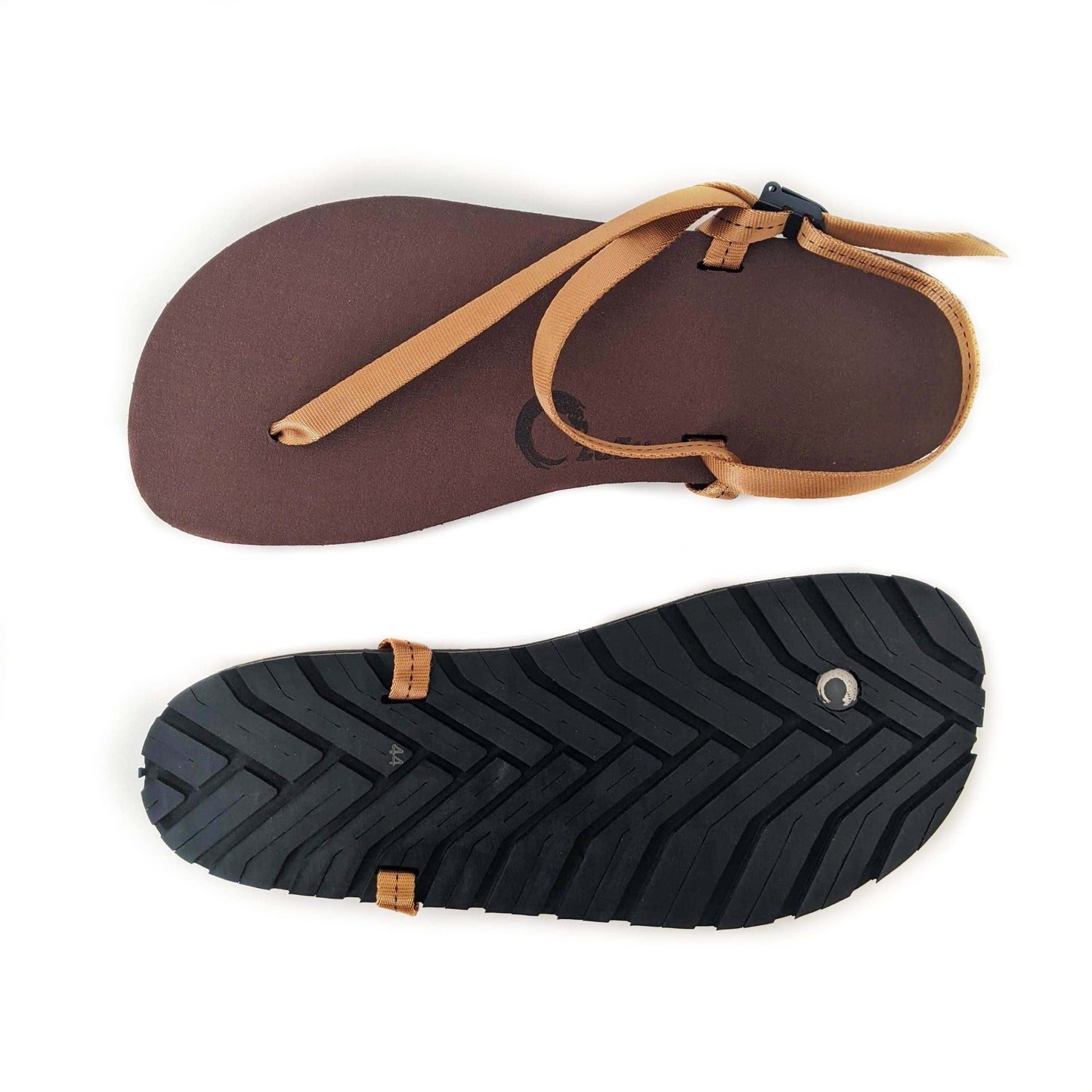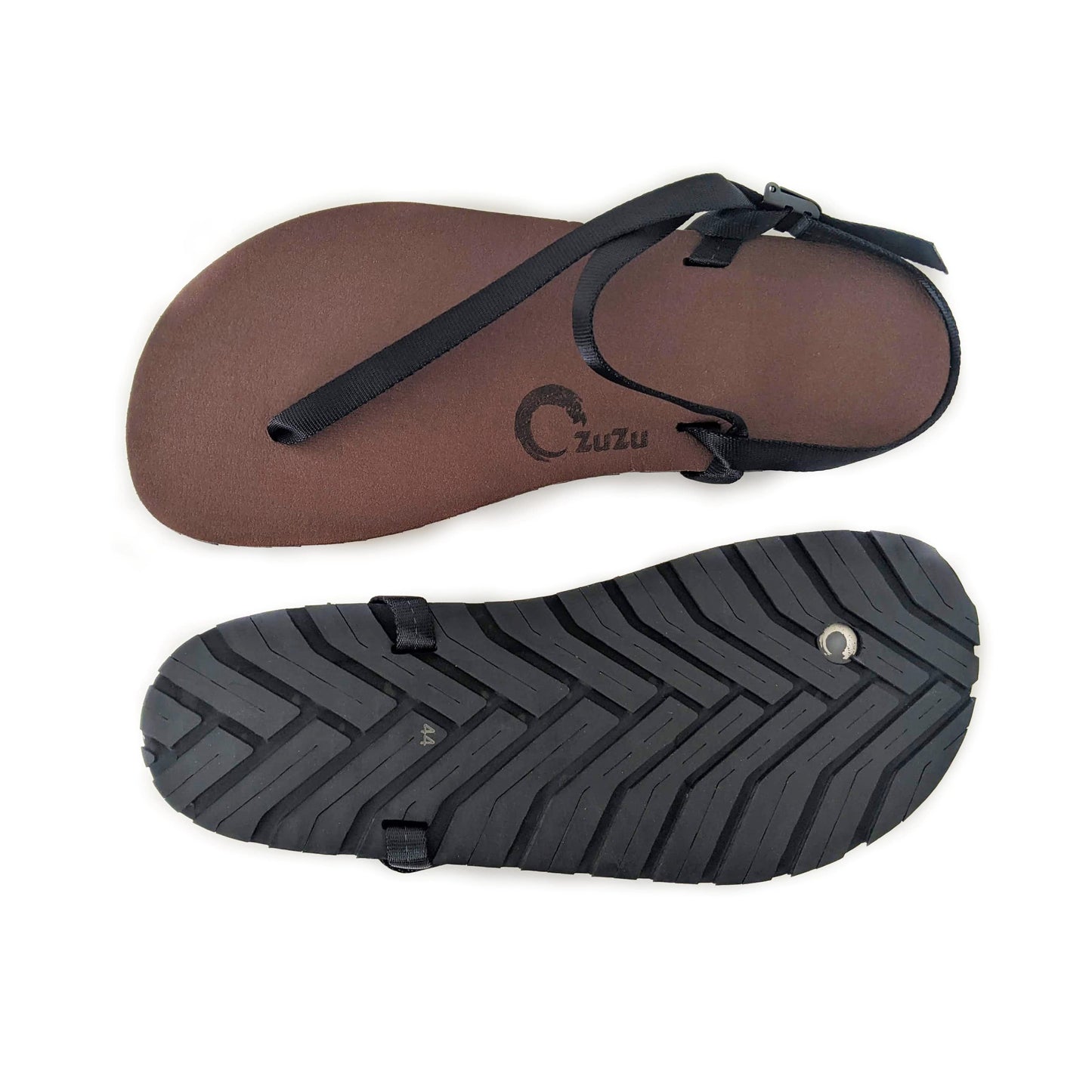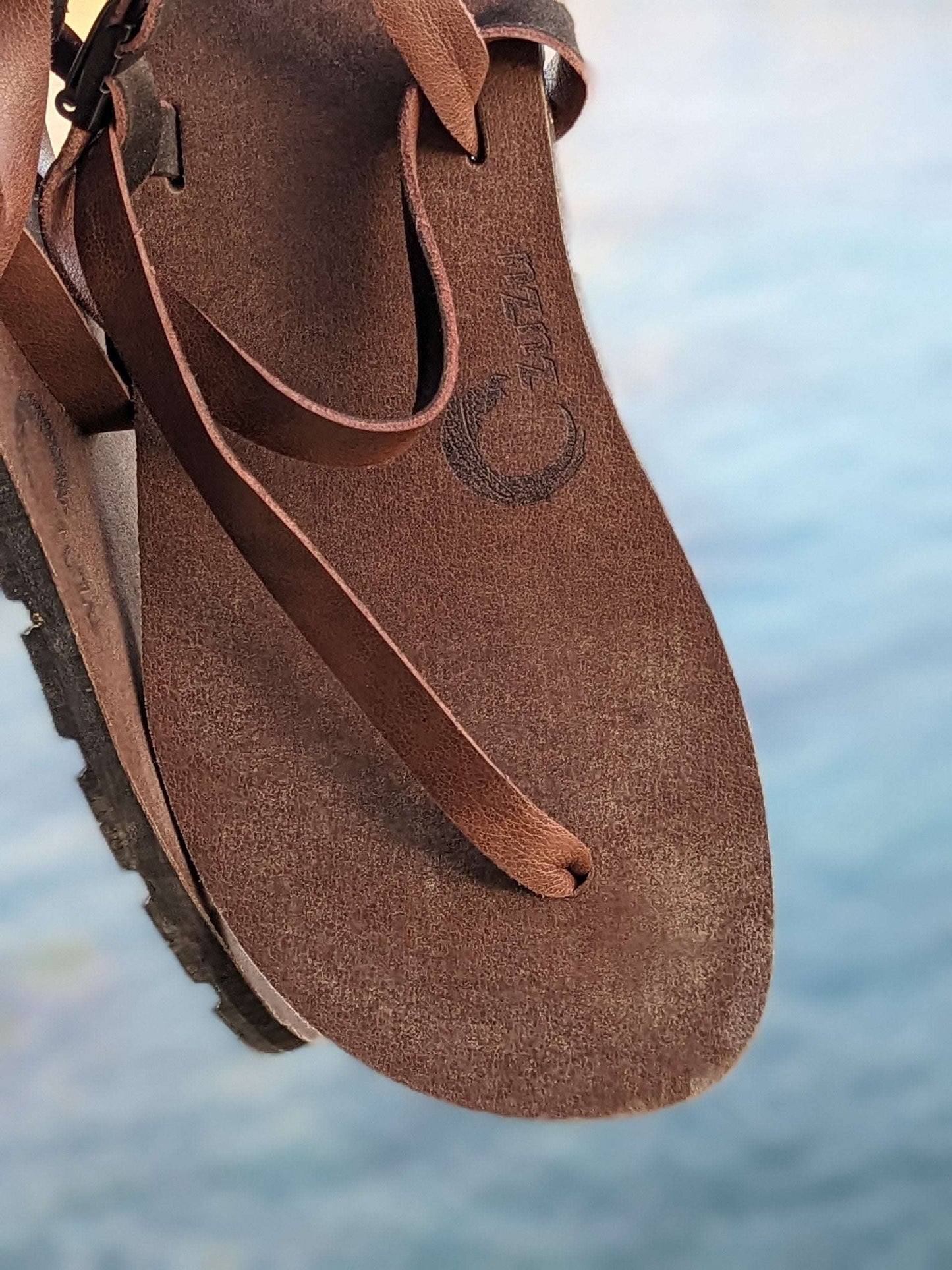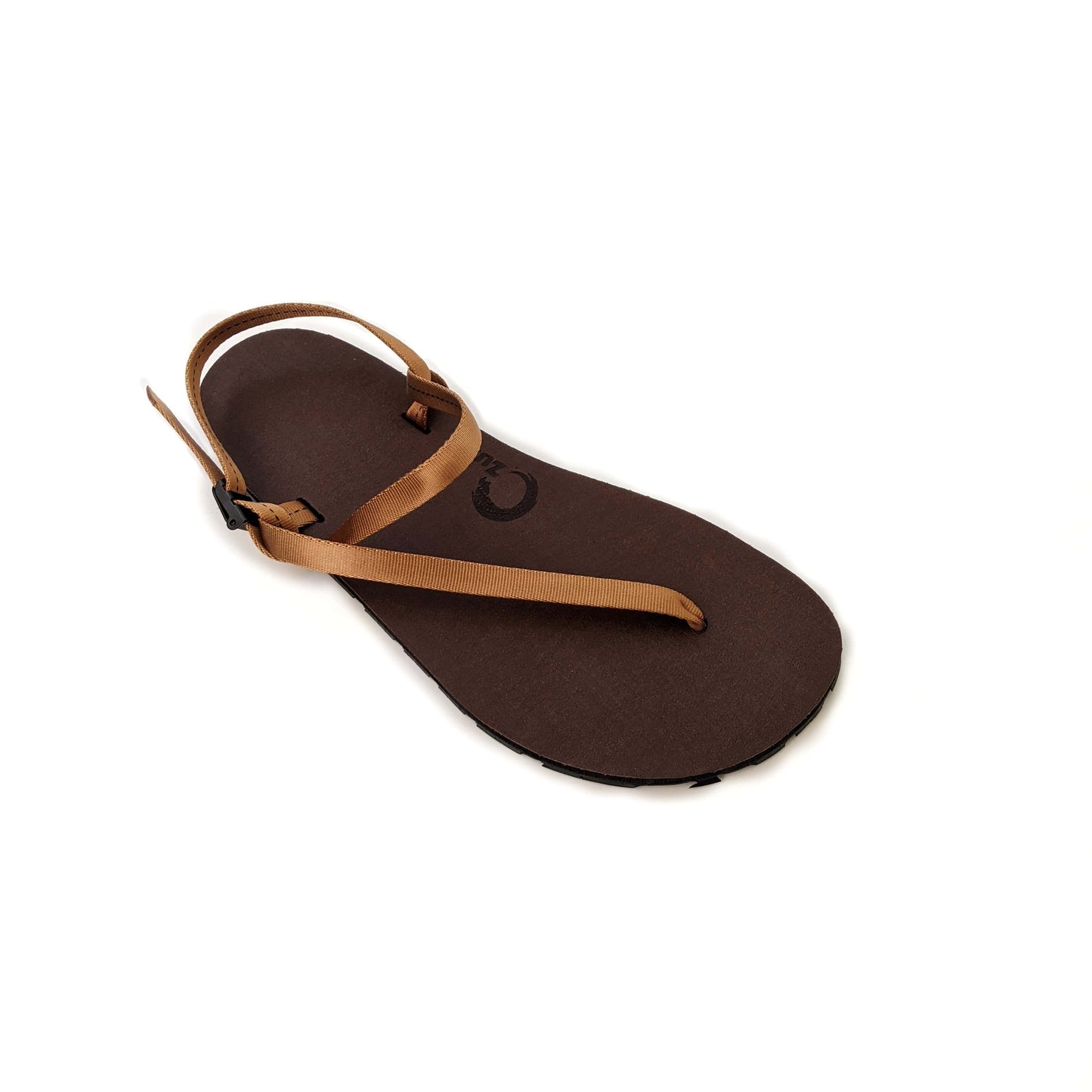 Collapsible content
Specs

Product specs:

Upcycled car tire sole
Anti-bacterial EVA midsole
Anti-bacterial breathable vegan leather footbed
Zero drop
Replaceable performance nylon straps
Stainless steel ZuZuSnap buckles
Thickness- 11mm
Weight- 170g (single sandal, size 42)
100% Vegan friendly
100% hand made with love!
Shipping and Returns

Shipping

Free shipping for orders above 70$.

Our estimated delivery times range from 5 to15 business days.

Prices vary based on destination and order value.

The price ranges are:
USA: Free -17$
Europe: Free -15$
Australia: Free - 22$
* The exact shipping price will be calculated at checkout.

Please note that some countries require the payment of additional customs, import duties, and taxes. These costs are the responsibility of the recipient and are not included in the cost of shipping. 
For more info, read our Shipping Policy.

Exchanges

We strongly recommend that you follow our size guide to ensure a perfect fit and avoid the hassle and costs of exchange.
If needed, we will be happy to help you with an exchange on sandals for up to 30 days after you have received them. The sandals must be in a brand new, resellable condition and in their original packaging (please try on indoors only). All shipping costs of exchanges will be covered by the customer.

For more info, read our Exchanges Policy.

Returns:

We're happy to accept returns on sandals for up to 30 days after you have received them. The sandals must be in a brand new, resellable condition and in their original packaging (please try on indoors only). All shipping costs of returns will be covered by the customer.

For more info, read our Returns Policy.
Size Guide

We strongly recommend that you follow our size guide to ensure a perfect fit.

Devoting a few minutes for this will surely save you the hassle, costs and time of coordinating a size replacement shipment.
Care instructions

To keep your sandals in good shape and smelling fresh, do not leave them under direct sunlight for long durations of time or in a closed vehicle on a hot day.

It is recommended to rinse and scrub your sandals periodically with water up to 30 degrees. It will hinder bacterial growth and keep your ZuZu nice and clean!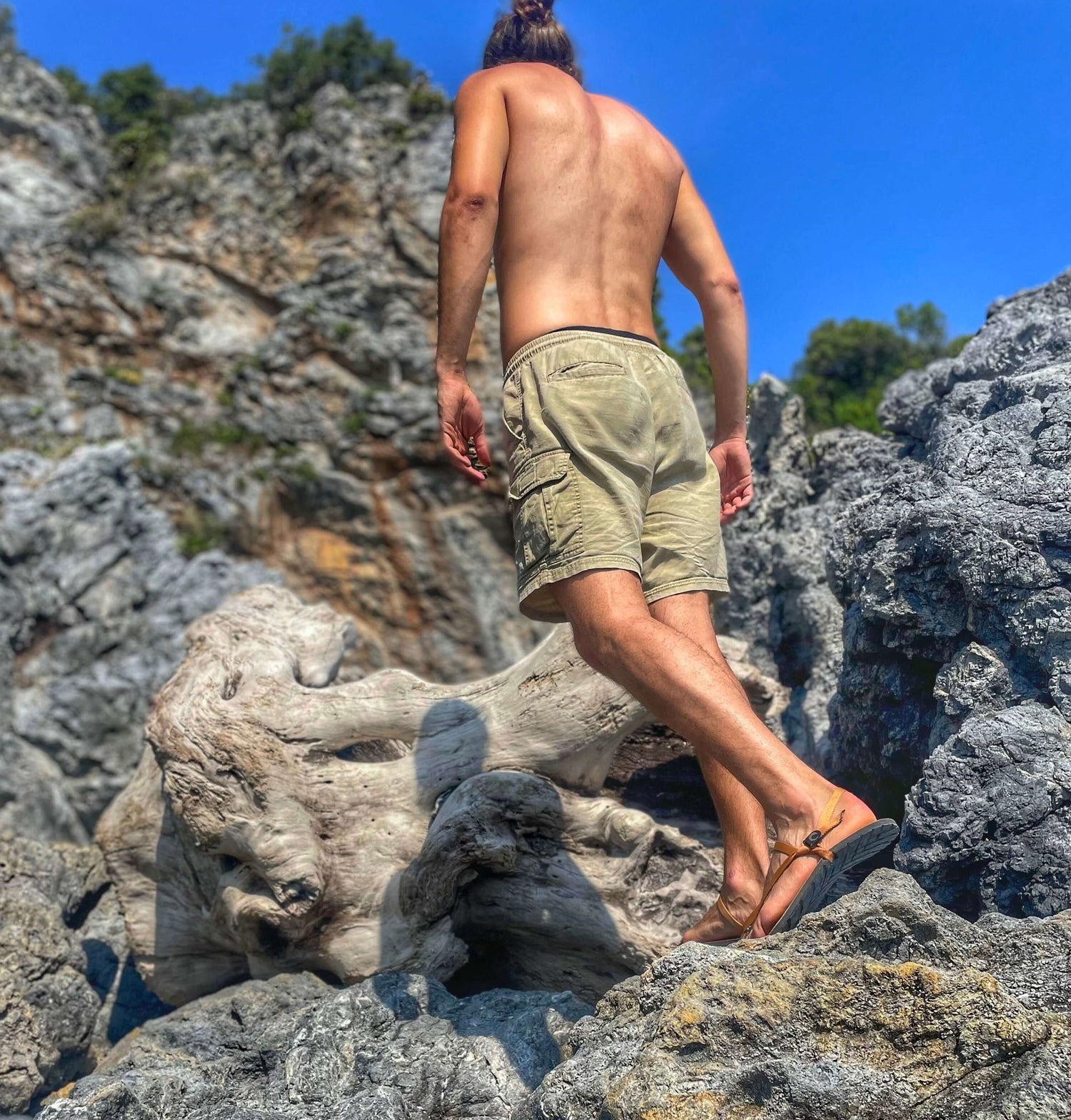 Detailed overview
It's easy to fall in love with its minimalist design and groovy vibes. ZuZu Groove is perfect for walking, dancing, and running in ALL terrains, while providing great comfort for short or extended daily walks.
Featuring a 11mm thick triple-layered sole made from recycled tire, anti-bacterial EVA midsole, and a moisture-wicking vegan leather footbed, ZuZu Groove delivers a barefoot experience with a soft feel and a more natural look.
ZuZu Groove is our favorite sandal, and for good reason. It's beautiful, versatile, and incredibly comfortable, making it perfect for any occasion. Whether you're strolling through the city, hiking a mountain trail, or just enjoying a day at the beach, ZuZu Groove will keep your feet strong and free.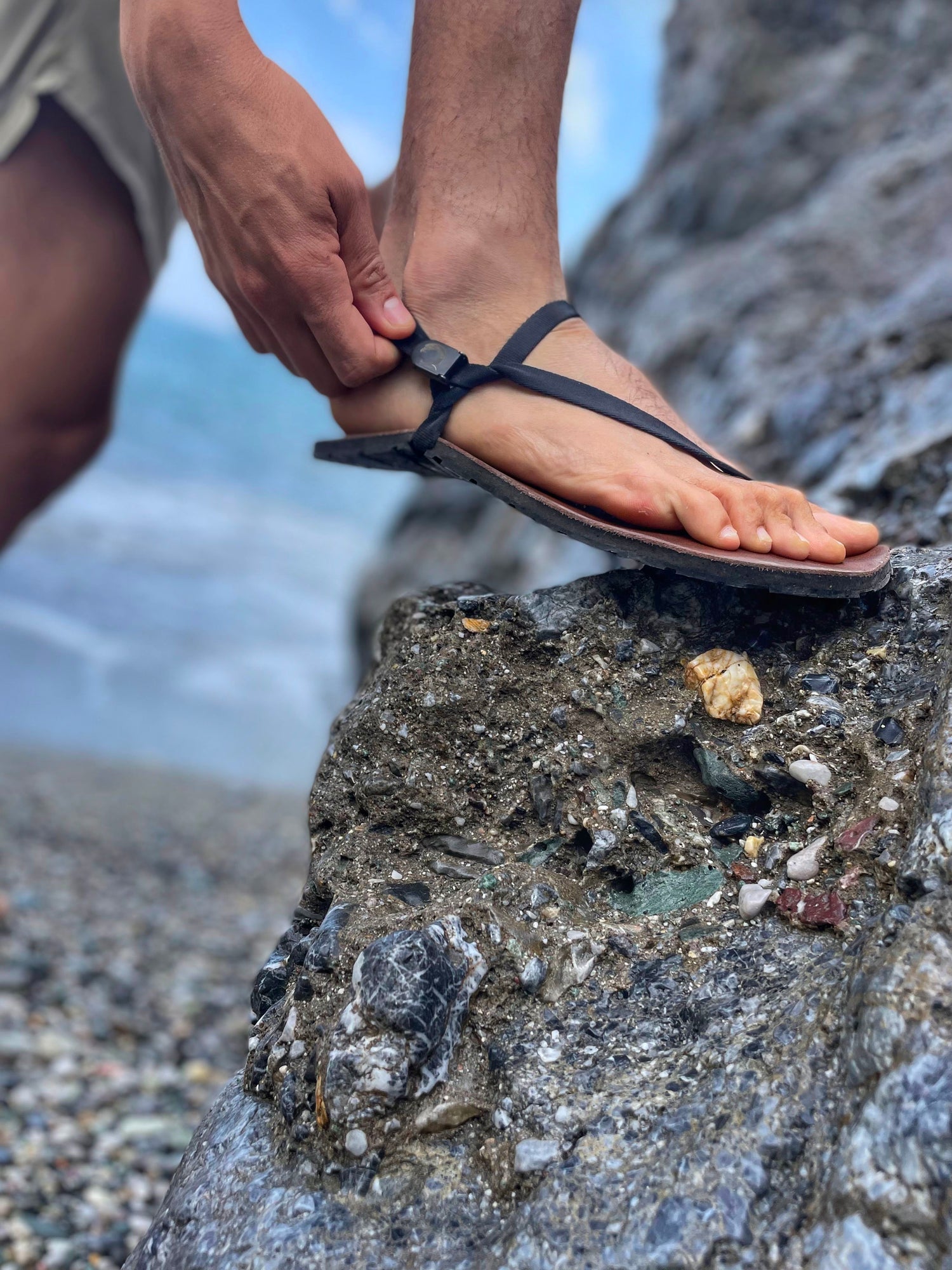 Barefoot begginers
If this is your first time trying minimalist footwear, you simply can't go wrong with ZuZu Groove.
It's important to remember that transitioning to barefoot walking (or running) requires adaptation of your foot muscles and soles. As these muscles get stronger and adjust to their natural state, you will find that walking in minimalist shoes feels more natural and comfortable than anything else.
The ZuZu Groove model provides an excellent balance between ground feel and comfort, with improved shock absorption and mild cushioning. You'll enjoy all the benefits of barefoot-like footwear while also keeping your feet protected when moving on rugged terrain and stepping on sharp rocks.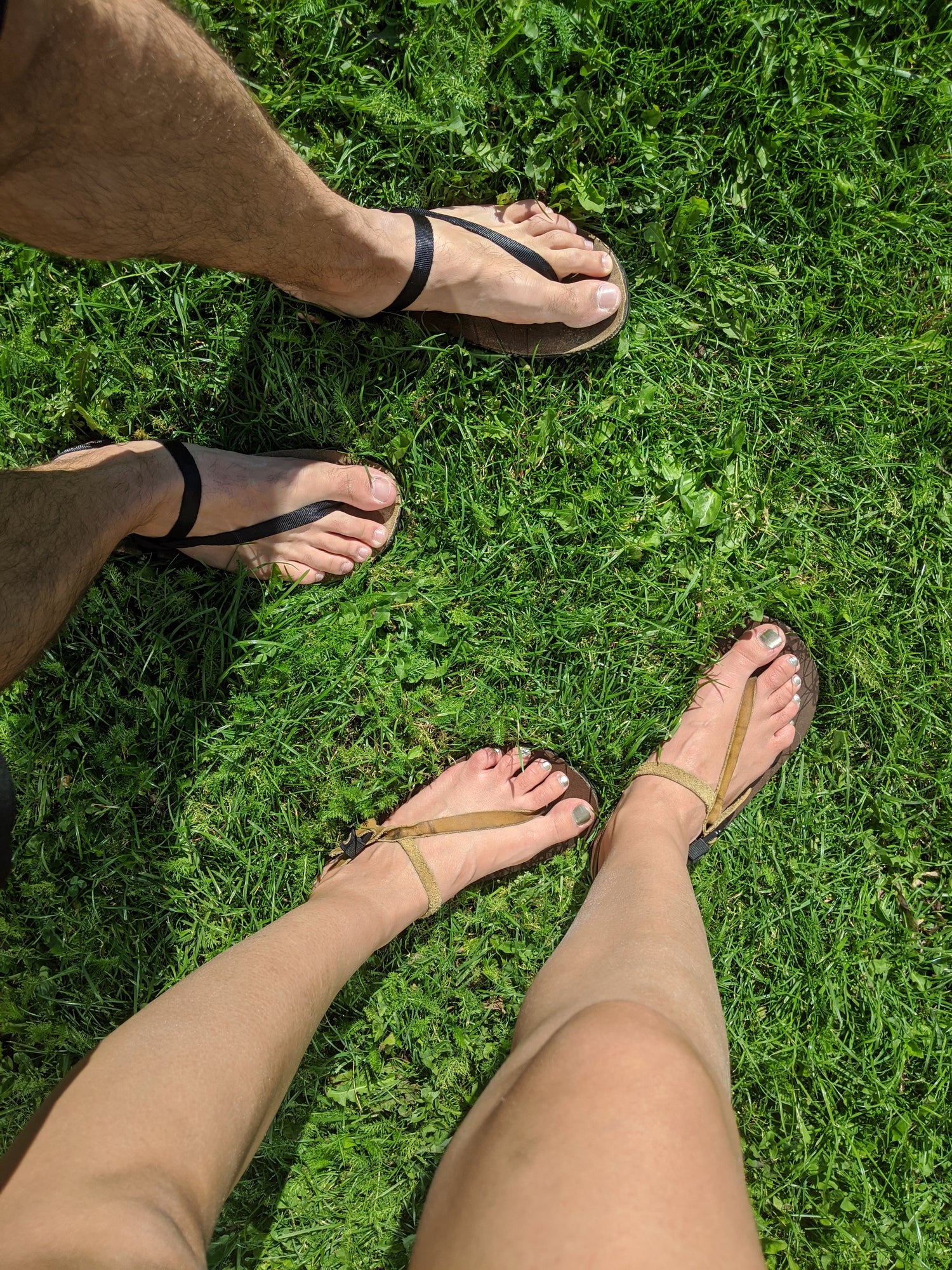 Everyday use
City streets are often paved with dense materials like asphalt, concrete, and bricks, which can feel uncomfortable and unnatural underfoot when walked on for long periods.
However, with the extra cushioning layer attached to the tire sole and the additional soft vegan leather footbed, ZuZu Groove provides superior comfort, making walking in the city a natural, minimalist, and comfortable experience.
If you primarily walk on hard urban surfaces, we recommend considering either the ZuZu Groove or ZuZu Flex models for best comfort.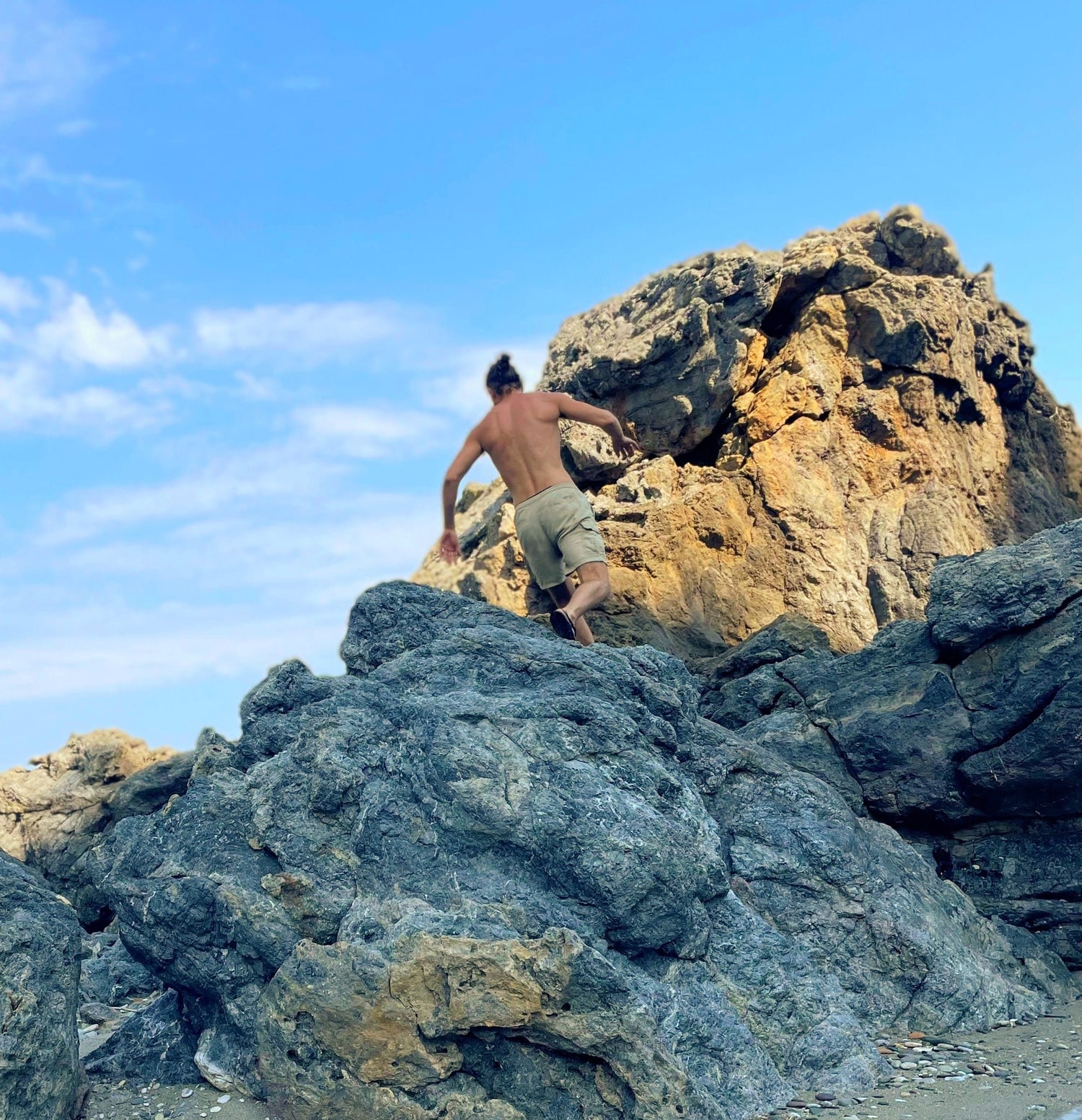 Barefoot running
When it comes to barefoot running on both paved and natural roads and trails, the Groove or Flex models are our absolute favorites, providing a comfortable and natural feel for your feet while staying agile.
We make the ZuZu Groove soles from upcycled car tires, which provide excellent grip even after years of intensive use, allowing you to run long distances without worrying about sole wear and tear.
Thanks to the high-quality EVA midsole, the sandals provide better shock absorption and protection than thinner minimalist sandals with a 3-7 mm sole. This advantage is particularly beneficial for long-distance running, as the minimal shock absorption reduces the load on your feet, minimizing the risk of muscle pain and injury.
In summary, if running in sandals is your go-to, we recommend choosing the ZuZu Groove or Flex models.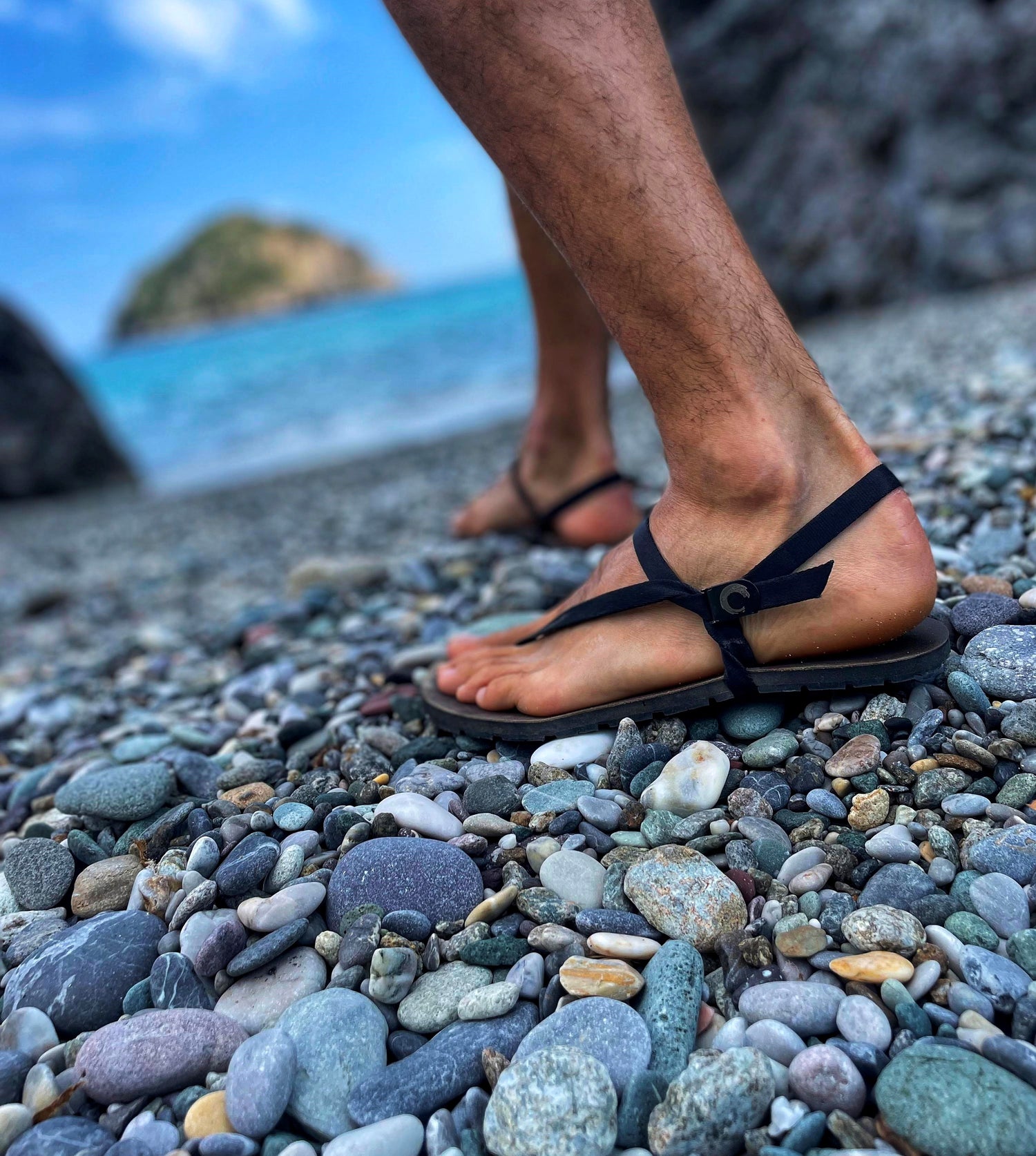 Ground feel
An important element of barefoot shoe design is to enable natural foot movement without unnecessary assistance or support.
The ZuZu Groove model strikes a balance between ground feel, comfort, and softness. While not as minimalist as the ZuZu Flow model, the Groove's added cushioning can be an advantage when moving on hard surfaces.
The sandals are designed to become an extension of your foot, thanks to their flexible materials that mold to the arch of your foot over time.
Although ZuZu Groove is a great choice for those who prioritize ground feel, we also recommend considering the ZuZu Flow model for a closer-to-earth look and feel. Ultimately, the decision depends on your personal preferences and the types of activities you plan to do.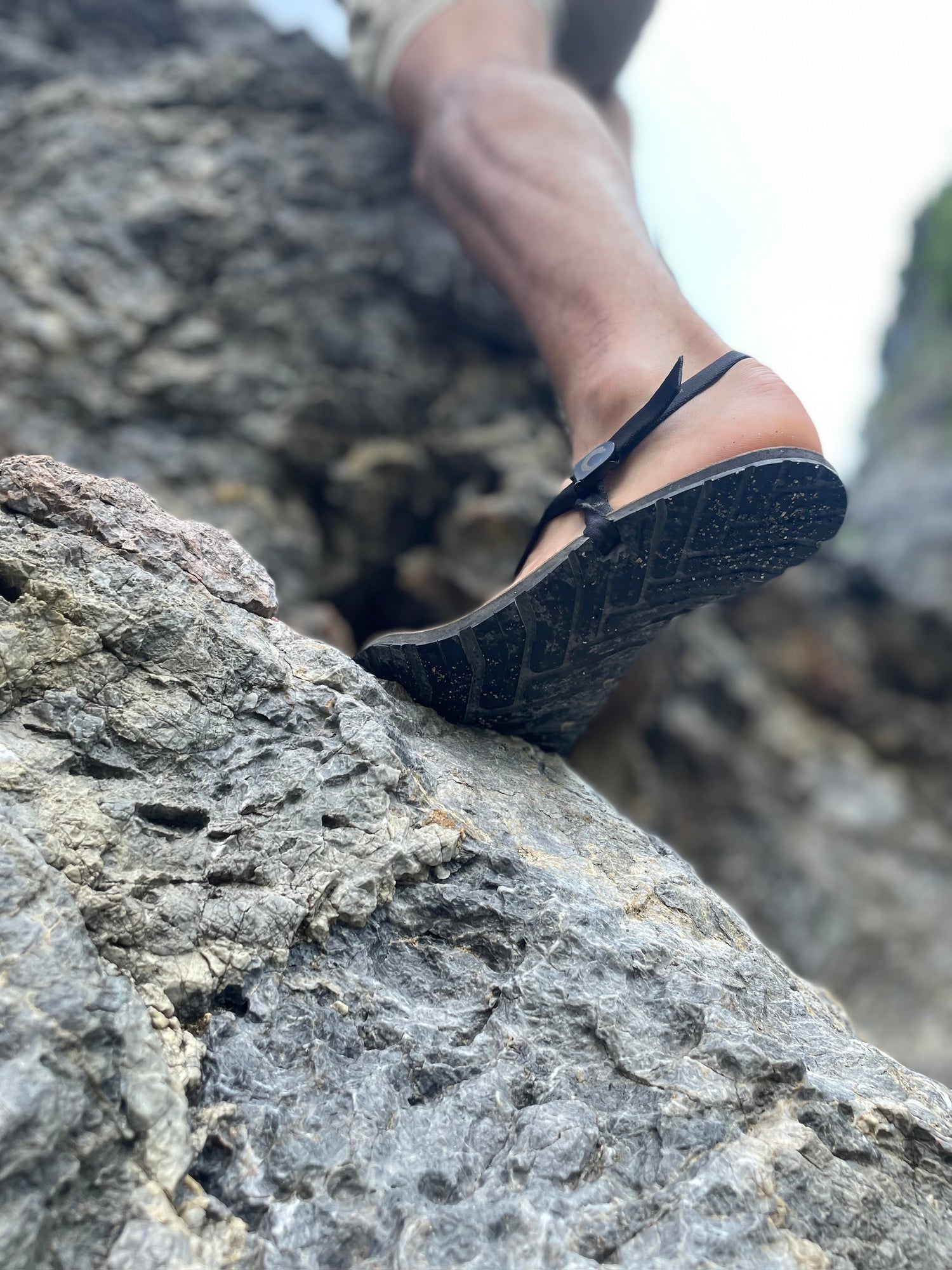 Fresh feet
After a long day of roaming around the city jungle (or a real jungle), crossing the finish line of a trail marathon, or simply surviving a hot and humid summer day, the advantages of ZuZu Groove shine.
The unique vegan leather of the sandal's footbed features both anti-bacterial and moisture-wicking properties, which help your feet stay well-ventilated and combat unpleasant odors.
In addition, the midsole also contains an antibacterial component designed to reduce and prevent the development of unpleasant odors that may arise from the accumulation of sweat and dirt.
Thanks to these properties, the ZuZu Groove model is one of the best smelling sandals out there, keeping your feet fresh and free,
Water performance
Here is where ZuZu Groove falls short of our other models. The soft and smooth vegan leather footbed performs exceptionally well with sweaty feet (due to its moisture-wicking properties), but once getting completely soaked, it can become somewhat slippery.
It is important to remember that due to the tying style of ZuZu sandals, prolonged exposure to water can affect the strap length and widen the textile fibers. If the straps become loose while walking in water, tighten them by adjusting the buckle.
In conclusion, if you frequently wear your sandals in wet conditions, we recommend considering either the ZuZu Flow or ZuZu Flex for optimal performance. However, in spite of the above, we find that for most people a good tightening of the straps when soaked removes most of the slippiness.
Summary
Key strengthes ✌️

Beatiful vegan leather footbed
Most comfy on city surfaces
Moisture wicking footbed
Anti-bacterial component
Beginner friendly
Great for running
Extremley durable

Possible downsides 🙏

Thicker sole, less ground feel
Gets slippery in wet conditions
If brown is not your color